:: I wore; Black Top; Jasmine, Skirt; The Limited, Heels; Fioni, Ring; Silpada, Earrings; Target, Gold Bracelet; Banana Republic, Black Clutch; Jessica McClintock, Watch; Kenneth Cole, Lipcolor; Kat Von D. ::
Hello everyone! Today I'd like to share the amazing time I had last Saturday night at the LPO (Louisiana Philarmonic Orchestra) Concert featuring the amazingly talented (very stylish and extremely handsome) Joshua Bell, who captivated many as he played Brahms Violin Concerto.
< For those of you who may be unfamiliar with Joshua Bell, here's a little bit about him >
''JOSHUA BELL has enchanted audiences worldwide with his breathtaking virtuosity and tone of rare beauty. His restless curiosity and multifaceted musical interests have taken him in exciting new directions which have earned him the rare title of "classical music superstar." Often referred to as the poet of the violin, Bell is the recipient of the Avery Fisher Prize and is the newly named Music Director of The Academy of St. Martin in the Fields. Bell first came to national attention at the age of 14 in a highly acclaimed orchestral debut with Riccardo Muti and the Philadelphia Orchestra. His Carnegie Hall debut and a recording contract further confirmed his presence in the music world. Today he is equally at home as a soloist, chamber musician, orchestra leader and composer who performs his own cadenzas to several of the major concerto repertoire. "Bell, Gramophone stated simply, is dazzling."- (via joshuabell.com)
For more info on Joshua Bell, check out his website
here
!
And he truly was.
The first part of the concert was amazing.Everyone in the Orchestra is so talented! If you are ever in New Orleans I urge you to attend one of their shows.
Classical music is definitely my favorite genre of music.It's so relaxing and I love how it can convey the deepest emotions without even a word.
During the Intermission there were a lot of stylishly dressed people.I overheard one lady say she had just purchased a pair of black satin Louboutins from Neiman Marcus earlier that week. She paired them with a gorgeous red dress and pearls. Just as I was starting to be consumed with jealousy, it was time for the second act. I walked as fast as my skinny legs would carry me through the insane lines for the Ladies Room and settled back into my seat.
Just as everyone started to settle down Joshua Bell walked on stage and almost instantly I let out a huge 'GASP!" and the church erupted with applause.
As he started playing I went into a trance, time stood still.I closed my eyes and thought of the most beautiful places.The sound that came from his Violin was so angelic, so beautiful and so perfect I could hardly tell if it was real or if I was dreaming!
I swear I could have just sat their for hours taking in the beautifully sweet notes.......
Then before I knew it the show was over.
As he walked off the stage the church once again erupted with applause and he received an almost five minute standing ovation.After walking on and off of the stage several times he gave the signal and everyone stopped clapping and looked around almost asking each other if they had really just witnessed what heard.
Then everyone made a mad-dash out the doors and into the lobby where he was going to be signing CD's and programs.
After purchasing a CD (seen above) and flipping over to his section of the program I got in line and anxiously waited.It was so funny watching my Grandmother turn three shades of red when he signed her CD and then it was my turn!
I handed him my CD and he smiled, shook my hand and I said '' Would it be to much to ask to get a picture with you for my fashion blog?''
He looked at me and said that would be fine. (Seeing as there were LOADS of people still waiting for autographs, I decided to wait until he finished)
After all the people died down I walked up once again and had my Grandmother take our picture.
(She did such a great job!!)
He was so sweet and friendly and he even asked about my blog after I told him he was going to be featured on it!
Oh and Joshua, if you do end up looking at this post I would just like to say; thank you SO much for taking a picture with me! It means so much! :)
I will treasure that evening forever and I can't wait for his next concert!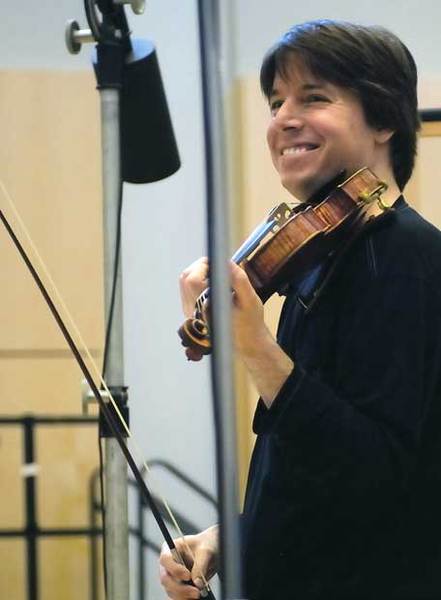 As far as his style goes, I'm a huge fan! It's classic, modern, simple, and sophisticated.
Charcoal blazers, sleek black button downs paired with dark wash jeans and dress pants are his go-to pieces.
Always looking put together and very, very well dressed, I give him an ''A+'' in Men's Fashion.
I'm sure you all agree.
I went for a ''classic chic look'', complete with pale pink lip color and a smokey cat's eye.
I just love the contrast of my black pleated skirt paired with my snakeskin slingback pumps.
I hope you all have enjoyed this post and remember, if you ever have the chance to go see Joshua Bell live;
don't hesitate and purchase the tickets immediately!!!!! You'll be so glad you did.
Hope you're all having a great week!
< Don't forget to 'LIKE' Joshua's
Facebook Page
! >
XOXO
Elizabeth E~
(Credits to the people who took the pictures of Joshua Bell seen above, they are not mine!)